A Message from Our Pastor
Welcome to the website of the Saint James Presbyterian Church of Greensboro, North Carolina. I am so glad you took the time to visit us. I trust you will find   information about our ministry that is relevant to your needs and desire to develop your journey of faith.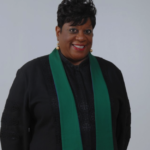 Saint James is a warm and welcoming intergenerational church of approximately 600 persons who are dedicated to our stated purpose of "touching lives through Jesus Christ." Since my arrival as Pastor in June of 2005 I have witnessed countless men and women, boys and girls, families and single persons unite with our ministry thrusting us into a great time of growth and expansion.
We currently offer 8:00 a.m. and 11:00 a.m. worship services presenting the best in music and liturgical arts expression through our various musical groups and liturgical dance ensembles.  Sermons are practical in nature and are designed to help believers of all ages understand what faithfulness requires of us.
There are a variety of ministries created to meet the pressing needs of children, youth and young adults, middle aged persons and seniors in our church and the greater community. We are currently in the midst of a strategic planning process dreaming, praying, and discerning together God's vision for our future. It is an exciting time at Saint James Presbyterian Church. Be sure to check our website for updates on these and other exciting events.
We invite you to come and experience the fresh wind of the Spirit blowing at Saint James Presbyterian Church.
About Dr. Moffett
The Reverend Dr. Diane L. Givens Moffett is a native of Oakland, California. She received her undergraduate degree from the University of California at Berkeley, and both her Master of Divinity and Doctorate of Ministry degree at the San Francisco Theological Seminary in San Anselmo, California. In addition to being a preacher and pastor, Reverend Moffett is the author of Beyond Greens and Cornbread: Reflections of African American Christian Identity published by Judson Press. The book received excellent reviews from various publications including Ebony Magazine. Dr. Moffett's sermon, Giving Birth is featured in Outstanding Black Sermons published by Judson Press and her sermon Mustard Seed Faith was published in Those Preachin' Women, Volume 4, Judson Press. Included in the journal, Call To Worship – Liturgy, Music, Preaching & The Arts, the official journal of The Presbyterian Association of Musicians, are two articles written by Doctor Moffett- Celebrating The Birthday of The Rev. Dr. Martin Luther King, Jr. and Celebrating Black History Month. The journal is published by the Office of Theology & Worship of The Presbyterian Church, (U.S.A.). In 2008 her sermon, A Fruitful Partnership, was published in the African American Pulpit Journal Winter Edition 2008, and in March of 2009 three essays in the Feast for the Soul Commentary published by Westminster John Knox Press.
Dr. Moffett is a revival speaker and guest preacher. She is currently Senior Pastor at Saint James Presbyterian Church in Greensboro, North Carolina and Moderator of the Salem Presbytery consisting of 145 congregations. She is married to Mondre' Moffett and they have three daughters, Reverend Eustacia Moffett-Marshall, Campus Minister at Saint James Presbyterian Church and Minister of Music at Grace Presbyterian Church in Winston-Salem; Jessica Moffett-Lee, an elementary school teacher in West Orange, New Jersey and Kayla Moffett an elementary school teacher at Faulkner Elementary School in Greensboro. She also has three beautiful grandchildren, Jeremiah Toure' and Jessica Monet Marshall and Joella Diane Lee .