A BLESSED CHURCH WITH A LEGACY of VISION
To fully appreciate the history of Saint James Presbyterian Church requires knowledge and appreciation of the faith and courage of those who came before us and an understanding of our renewed commitment to the vision ignited by our forefathers. Saint James Presbyterian Church, which started in 1867, observed its 140th anniversary in 2007. This milestone celebrates our church's continuous commitment to touching lives through Jesus Christ in the community we serve.
In June 2005, Saint James celebrated the beginning of a new season with the recent previous  pastor, Reverend Doctor Diane Givens Moffett who became the first female pastor of Saint James Presbyterian Church. In this season, the church was energized with a spirit for growth and vision. During the first three years of her leadership, the church's new vision began to take shape with emphasis on the five purposes of the church Worship, Evangelism, Fellowship, Discipleship and Ministry. As Saint James congregation continues to "Touch Lives Through Jesus Christ" we have welcomed close to 100 new members and experienced a renewed energy and excitement for ministries such as the Children's Sunday School and WWW Wednesday Word and Worship, the pastor-led Bible study. We do believe the best is yet to come.
It's that kind of spirit that forged a 150th anniversary. The story of our church began with lay leaders who gave inspiration and guidance towards initiating an organization among Negroes, which was both religious and civic in spirit. Approximately thirty interested men and women met regularly in a small rented house on Forbis Street in Greensboro, North Carolina in 1867.
We're like a tapestry or quilt with a fabric woven by threads of faithful men and women like our early pastor Reverend James A. Crestfield who became our full time pastor in 1869. It was in the early 1900's that the congregation purchased a house and used its facilities as a school to train and educate Negro children and adults. The pastor and lay leaders served as teachers providing the first formal educational offering for Negroes in Greensboro, North Carolina.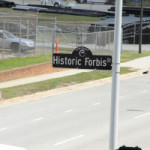 Through the years, Saint James Presbyterian Church was blessed with several pastors who shared in the church's historic commitment to support education and be faithful in making disciples. Earlier pastors were Reverend J.G. Walter, D.D., (1900-1910); Reverend Byrd R. Smith (1915); Reverend Dr. Hector Miller, Sr. (1924-1945); Reverend Julius T. Douglas (1946-1971).
Under Reverend J.T. Douglas' dynamic leadership campus ministry at NC A& T State University and Bennett College flourished and a new home was built for our church. Saint James remained on Forbis Street until four lots in the 800 block of Ross Avenue and twenty-six acres adjoining these lots were secured in 1954 and the Forbis Street property was sold to Duke Power Electric Company. In November 1959, the congregation worshipped in the new structure and the church was dedicated on December 13, 1959.
Following Reverend Douglas' retirement, the Reverend Lloyd Green, Jr. assumed the pastorate of Saint James in July 1973. Under his leadership the church widened its involvement in the community and the Christian Education Program and other organizations were strengthened.
In March 1986, The Reverend J. Herbert Nelson, II assumed the pastorate. Under his leadership several programs were reactivated or initiated. We continued our community focus in such programs as Cropwalk for Hunger, United Negro College Fund and Habitat for Humanities. Also under his tenure the stained glass window project was completed in June 1991. Created by artist and church member Eva Hamlin Miller, the ten stain glass windows were dedicated to the glory of God on September 1991. During Reverend Nelson's tenure, Reverend Nathan Byrd assumed the associate pastorate from September 1994 through September 1995 and focused on the areas of Campus Ministry, Youth Ministry and Christian Education. In December 1997 Reverend Nelson left the pastorate of Saint James to follow God's calling to another area of ministry and New Church Development.
The Reverend Dr. John L. Pharr, Sr. served as Interim Pastor of Saint James from September 1998 until August 24, 1999. He was followed by Reverend James A. Belle in July 1999. Under Reverend Belle's leadership, fifteen ministry divisions were developed in order to consolidate all church activities under the leadership of Elders on the Session. Reverend Leon Davis was later called as Associate Pastor of Campus Ministry in July 2000. Reverend Belle left the pastorate of Saint James to follow God's calling to another area of ministry.
The Reverend Dr. Paul N. Ridolfi became Interim Pastor in August 2002. Under his leadership the Stephen Ministry was initiated. Reverend Dr. Diane Givens Moffett was called and the legacy for vision continues as we "touch lives through Jesus Christ."
Today…
The church is led by our  Temporary Supply Pastor, Reverend Eustacia Moffett Marshall. During Reverend Doctor Diane Givens Moffett's tenure, the church welcomed more than 200 new members including families, singles and children. Renovations in the narthex, hallway and pastor's office were completed in 2014. Electronic media, visual media and other components have enhanced the worship experience as we touch lives through Jesus Christ. Our spirit was ignited by Reverend Moffett's energetic style and her determination to "grow" the church spiritually.