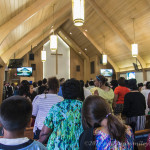 The Worship Team provides oversight for all aspects of worship. Active elders (those currently serving on the Session) provide leadership for this area along with volunteers who desire to work

with the team. 
Audio & Visual Media Ministry Team– The media ministry provides audio, visual and other forms of media coverage for SJPC worship services and other events as well as  leadership for the production and distribution of tapes, cds and DVDs of SJPC worship services and events.
Revivals & Special Worship Services – The worship team  leads in the planning, coordinating and implementation of SJPC revivals, and special worship services such as: Junteeth Worship on the Lawn, Ash Wednesday, Holy Week, Advent, and other holiday worship services as well as 5th Sunday Quarterly Prayer and Healing Services.
Altar Guild – The altar guild coordinates altar flowers and prepare the church for worship and other special services.
Acolytes – Acolytes light and extinguish candles at the beginning and end of worship services.Acolytes currently participate in the 11:00 a.m. Sunday Worship Service.
Mid-Week Noon Day Service – Midweek prayer is a powerful time for members and community to gather to pray for the church and community, lifting upspecific prayer requests by members and friends.  The service starts at 12:30 pm on Wednesdays.
Intercessory Prayer –  This ministry advocates for the cultivation of  prayer at SJPC by providing special prayer calendars during various seasons of the year, prayer before Sunday worship each Sunday, 5th Sunday Prayer and Healing Worship Services,  special workshops and other information designed to inspire members in the ministry of prayer.